Best Bulk SMS Service Provider in Nigeria are as follow;
NigeriaBulkSMS.
BetaSMS.
BulkSMS
BulkSMSLive.
Multitexter
SMSexperience
Routee
ExpressbulkSMS
SMSlive247
Acebulksms.
There are lot but here just few I was able to note down
While I was researching on this Topic "Best Bulk SMS Service in Nigeria"
Also note that the order of my listing is not a hierarchy of how best each platform is to another.
If you own a bulk SMS website Portal that I do not mention, simply leave your comment and site link.
I would research it and add it to my list when updating this post again.
If I mention your site, simple Comment to thank us for the mentioning and share this post.
So, let's move on,
Real quick let me tell you What is Bulk SMS Marketing all about.
Also Read: What VTU Business Is All About
S-M-S stand for Short Message Service
Now, what do you understand Bulk SMS to be,
Bulk means quantity.
So, Bulk SMS means sending short Messages to large number of Phone numbers.
Features & Benefits of Bulk SMS Marketing Service
High Open Rate.
Direct Message.
No Internet Connection Needed.
Easy To Read (Short Text).
Cheap Advertising Method.
Direct Target Audience.
Let see why you should invest in Bulk SMS Marketing for your business,
with you knowing it benefits, you can see how those factors can help you grow your Business.
Are you a WordPress blogger or your Website built with wordpress CMS.
It is now easy for you to integrate Bulk SMS on your site even if you are in Nigeria.

EBulkSMS has made it integration and API avaliable to connect with using WP SMS plugin,
WP SMS is WordPress SMS Plugin that help deliver SMS directly from WordPress to your Subscriber (contact) o any Bulk SMS Service Provider like EBulkSMS in Africia and other Countries.
WP SMS has over 261 integrations avaliable in Pro Pack and 186 in free pack.
You can create a Free account on EbulkSMS as Free Bulk SMS in Nigeria.
Best Bulk SMS Sevice For WordPress
With the WP-SMS Plugin text messaging feature in WordPress you can take your blog with you wherever you go by interacting with your blog via your mobile phone through SMS.
Here are the steps you can take to setup your WordPress site to use this wonderful plugin.
Click on "Plugins" from your dashboard menu and select "Add New".
Go to the search box and type "sms".
There you have "WordPress SMS" which is the first by the left.
Click on "Install Now"

Below are the screenshots of the configuration;

From the dashboard, click on "settings" under the "SMS" option which brings you to this page; Type out the admin number and country code in the spaces provided and click on "Save Changes".
Next, you click on "Gateway"; Select "Ebulksms.com" as the Gateway name,
 Type your EbulkSMS email address in the API Username
Type the sender name you wish to use in the space for "Sender number"

Copy or generate your API key from the "Developers" page on EbulkSMS

Click "Save Changes" after the configuration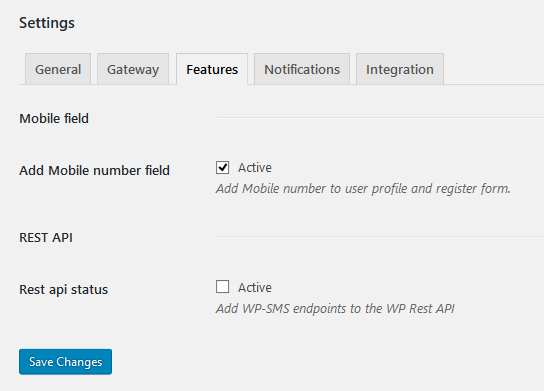 Features; configure the features to your preference and click on "Save Changes".
Click on "Notifications"; configure it to your preference and click on "Save Changes".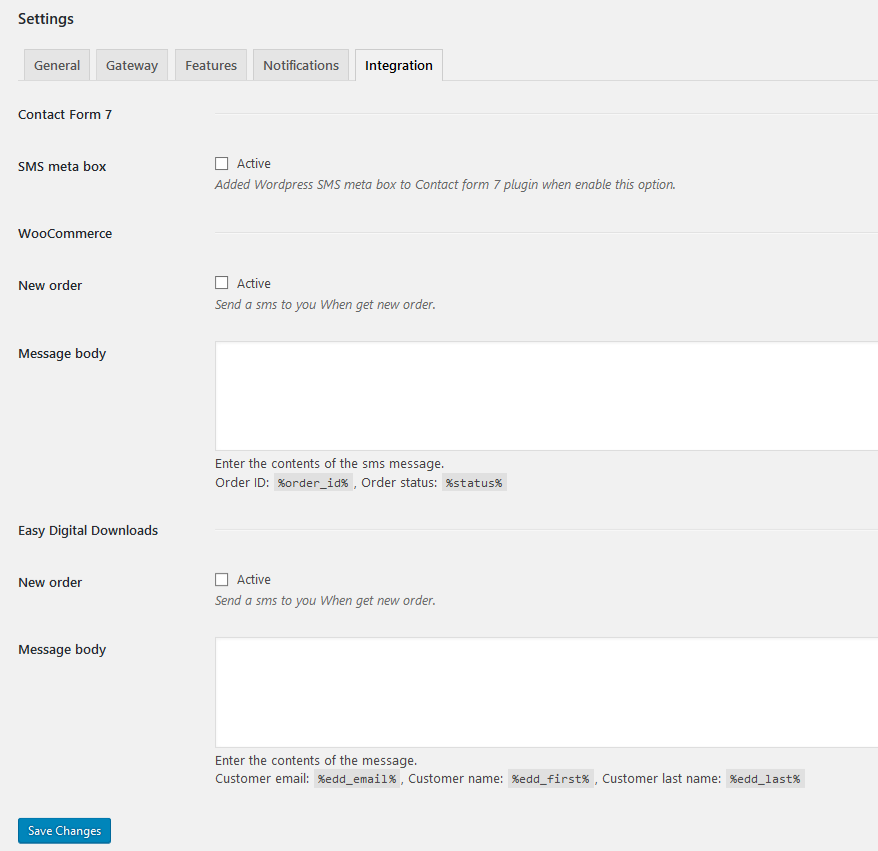 The "Contact form 7" box is configured which allows your subscribers to view and edit on your profile, and also allows them input theirs so they could communicate with you or you could send feedback when necessary. So also is the "WooCommerce" which is in charge of the ads. The free version of the "WooCommerce" plugin only notifies you when someone makes an order, but if you want to send your customers automatic SMS notifications when they make an order you have to purchase the paid version of the plugin. The same applies if you have the "Easy Digital Downloads" plugin installed.
The merits of merging WordPress and Bulksms are endlessly amazing. So get started with www.ebulksms.com right away!
P.S: If you are on a shared hosting you will need to contact your hosting provider to open access for outgoing connections to port 8080 on api.ebulksms.com
It may be best to open a support ticket on your webhost account and paste the message below for them to assist.
Dear Web Hosting Team,
Please I need access to the API on ebulksms.com
The API runs on port 8080. 
Kindly grant my request by opening outgoing connections to api.ebulksms.com on port 8080.
Thanks.
If you also like to start VTU Business on your WordPress site, Consider using VTUpress plugin – VTU WordPress Plugin.
You can get started by using AImtoget WordPress Plugin
Or
Check out our detailed guide on Best VTU Portal Creator Software in Nigeria.
Recommended Post:
See How To Sell Data and Airtime Online using wordpress
In Conclusion
You can start a BUlk SMS Business with these Best Bulk SMS Service or just send SMS to your contact with them,
which ever way,
They are Free Bulk SMS in Nigeria
Now, Over to you.
Which Bulk SMS Service would you use
If you liked this article, then please subscribe to our YouTube Channel for VTU Website Business Video Tutorials. You can also find and follow us on Twitter and Facebook. Join our Telegram Group Channel Dosuggest Daily
Published on June 11, 2021 @ 7:26 am